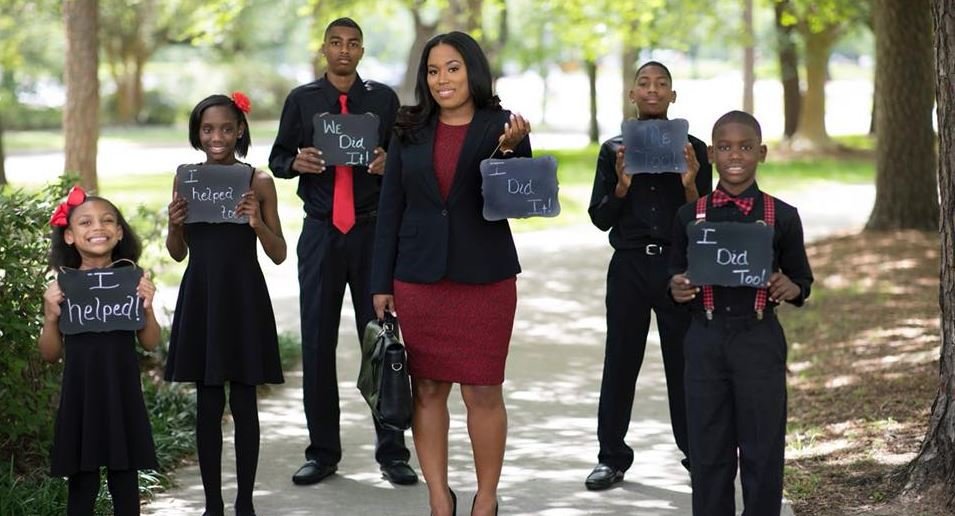 Internet Sensation- A Heartwarming Photo of a Mother of Five as She Finally Graduates from Law School!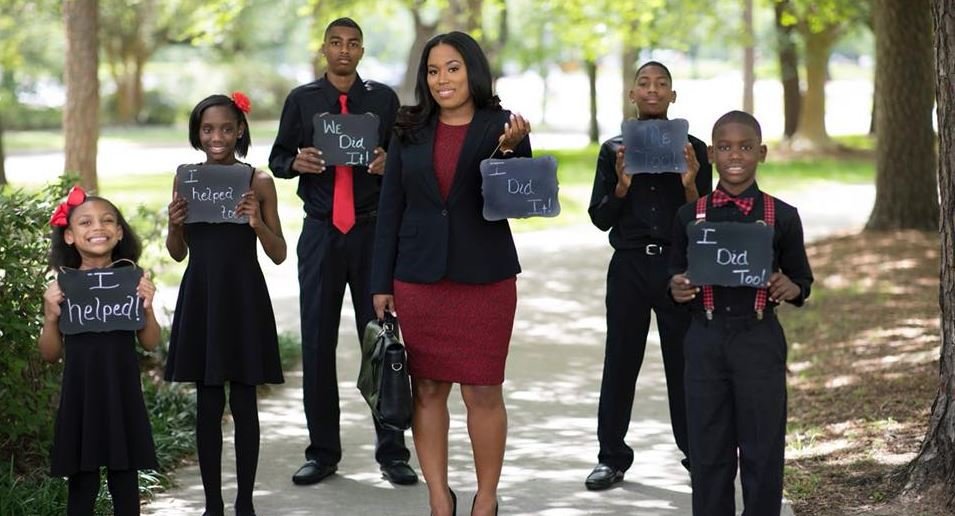 The world of Academia is an ever-inspiring place that brings together some of the most brilliant minds and celebrates them. Regardless of gender, race, age, or marital status, many individuals have toiled for that prestigious merit or certificate that declares them noteworthy and learned individuals in the society.
An Internet sensation
Lately, social media has been buzzing. All thanks to the beautiful photo of a single mom of five on her graduation day. The internet has simply fallen in love with her! Ieshia Champs from Houston Texas is the mother behind the trending photo. Posing alongside her five children, she boldly presents herself with such confidence and charisma. And from the photo, you can tell her kids are excited too! Adorned in spectacular official clothing, they line up perfectly on both of mom's sides; each looking oh so proud of their mother.
Mom too seems just as jovial. Close to her cap and gown, she boldly holds a sign stating, "I did it!" And boy did she run the race and win.
Proud, bold, and happy
Champs, who is 33, is set to graduate on May 11 Magna Cum Laude from Thurgood Marshall School of Law. And the proud mother of five says that this tremendous feat would not be possible sans the support of her children. In fact, while cooking, Champs said that they would occasionally whip out some flashcards and quiz her to help her study. At times, they would even serve as a mock jury!
She further gives credit, to her sister, her close friends, as well as the institution for giving her the much-needed support. In fact, there were times when she had to bring her children to school. Thankfully, her friends would be there to do a little babysitting when necessary. Above all, she ultimately thanks God for her success.
A tragic past
But it's not been an easy road for her to get here. In 2009, she had one uneventful year that culminated in a series of unfortunate events. First of all, she lost all her prized possessions in a house fire. Then, the father of two of her children died as a result of cancer. As if that wasn't enough, she lost her job and was unemployed for a while. Things went from bad to worse when her mother got a severe stroke from which she failed to recover from. In August of 2009, Champs attempted to commit suicide.
Despite that period being one of the darkest moments in her life, she managed to pull through. In fact, she gives credit to her second family, the church at Minister For Christian Center, for helping her heal the wounds of pain and despair. Louise Holman, one of the church senior leaders, actually gave her a call one day and told her that God had spoken to her that she should pursue a law degree. Intriguingly, Champs informed USA today that not once had she told Holman that she wanted to be a lawyer.
Overcoming the tragedy in her life
The amazing and heartwarming graduation photos were captured by the church leader, Bishop Richard Holman. Who also happens to be Louise Holman's husband. During the photo session, Champs said that the main reason she wanted her photos to be seen was to let the world there was a higher power in the workings of her law degree.